Deacons
Deacons are the caregivers for God's people thus making the deacons the hearts and hands of the church.

They handle all the affairs of the church allowing the pastor to minister the word of God to the congregation.

Being a deacon is a wonderful calling to serve the people of God and His Church. We proudly serve!
Minister Milton Singleton and
Wife Janice
Deaconess
The Deaconess serves the pastor and church in preparation of the table for the Lord's Supper, properly seating new converts, and assisting these converts for preparing to take their First Communion.

It is the Deaconess responsibility to serve as mentors for the younger ladies of the church by giving them advice and instructions concerning attire, and Christian behaviour, etc.

The Deaconess are also responsible for making sure all church linens and uniforms are clean and ready to wear.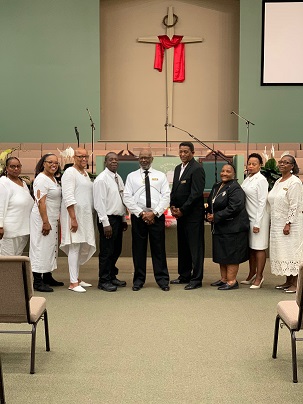 Ushers
The Evergreen Baptist Church ushers make every effort to ensure people arriving for church services are greeted with Christian hospitality.

The ushers distribute programs, assist with collecting offerings, and other tasks required to ensure church services proceed in an atmosphere of true worship with minimal distractions.

The hearts of our ushers are filled with love, and "whatsoever they do, they do heartily, as to the Lord…" Colossians 3:23
Our Mission: Evergreen Baptist Church presents the Gospel of Jesus Christ in such a way that turns non-believers into believers, believers into disciples, and disciples into mature, fruit bearing followers who will impact the lives of those they meet.
Our Vision: Evergreen Baptist Church seeks to be the mouthpiece and the hands that lead people to Jesus Christ and develop them to a level of maturity that equips them for effective ministry inside and outside the church.
Through the teaching and preaching of the Word of God, we seek to bring individuals and families into a closer relationship with Jesus Christ and each other.
Physical Address:
Evergreen Baptist Church
3399 LA Hwy 3125
Paulina, LA 70763 
Mailing Address:
Evergreen Baptist Church
Post Office Box 296
Paulina, LA 70763
Phones:
Church: (225) 869-9508
Pastor Albert: (225) 454-4483
Email: Evergreen1913@att.net